About Monarch Fire (UK) Ltd
Monarch Fire (UK) Ltd is a family run business, founded and run by Dave Shorten. We have been in operation for over 20 years and have built our business on recommendations as we pride ourselves on quality, service, value for money and delivery.
Our core area of expertise is Fire Alarm testing and maintenance and Fire Extinguisher servicing & maintenance in the Oxfordshire area.
We aim is to provide every business and home in the Oxfordshire area with the best and most cost effective fire safety solution whilst ensuring maximum safety. We work closely with trusted partners to ensure that your fire risk assessment and training requirements are also met.
Dave has over 25 years' experience in the fire safety business. After leaving the RAF he worked in London as a fire safety technician and service manager before being head hunted by an Oxfordshire based Fire Company.
When this small enterprise was bought out by a larger company Dave was not comfortable working on commission as he felt he was no longer free to recommend the best products and services for customers' needs.
In starting Monarch Fire (UK) Ltd he made sure that no commission would ever be paid to any engineer or salesman and that customers are only visited by qualified engineers. This ensures the right products are recommended for the job and that they are sourced, installed and maintained in the most cost effective way.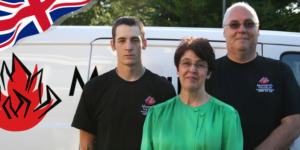 Mike is a major part of the father and son team that forms the core of our business. Mike started to help his dad whilst still at school and sat his core fire alarm exam alongside his school exams scoring a remarkable 96.8%, second only to Dave's 98.4%. Mike has a natural ability to resolve fire alarm faults and is passionate about the extinguisher side of the business. Both Mike and Dave had attended numerous manufacturers courses to enable them to work on multiple specialist fire alarm systems.
Our engineers are trained to British Standards BS5839 – Fire Alarms, BS5306 – Fire Extinguishers, BS-EN-671-3 Fire Hose Reels and BS5266 – Emergency Lighting. In addition our installers are qualified electricians keeping up with the latest certifications as required by their industry.
We carry out a survey of your site to ensure you have the right equipment for the premises and will recommend what is needed to ensure you are compliant. It is essential to have the correct number and type of fire extinguishers on site for safety and compliance but we will ensure you are not buying equipment you do not need.
Although we are are a friendly and relaxed bunch we take fire safety and our commitment to the best service very seriously. We focus our service in the Oxfordshire and surrounding areas but can travel further afield depending on the scope of the survey.
To keep up to date with the changing fire regulations please subscribe to our blog, or follow us on Twitter as we will share industry and legal news that may impact you as it happens.